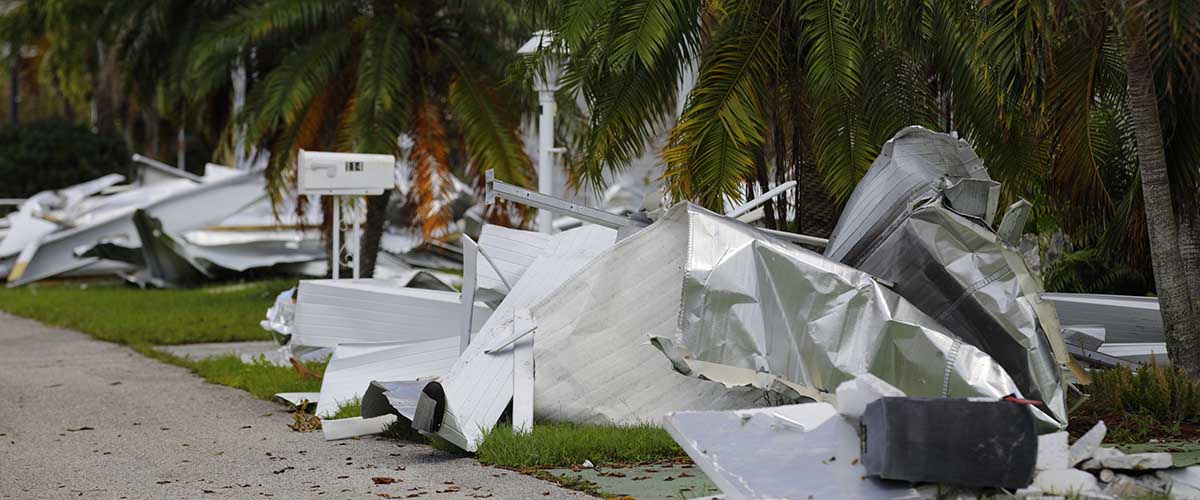 Is Your Insurance Provider Denying or Low-Balling Your IRMA CLAIM?
Don't let your insurance company put their profits before your losses. You need and deserve the coverage you've been paying for. We can help you receive the maximum for Hurricane Irma damage claims.
Most home and business owners have been paying insurance companies under the belief that in case of a natural disaster, they will be covered. But for some, things have not turned out the way they expected. During this post-Irma recovery period, these residential and commercial property owners have come to realize that the insurance companies they had put so much faith in aren't treating them fairly.
Is Your Insurance Company Giving You the Run-Around after Hurricane Irma?
Hurricane Irma left a wide path of destruction across Florida, and many are still struggling to find normalcy in the aftermath. Hundreds of thousands of homes, vehicles, and businesses were destroyed and insurance and flood claims could reach into the billions. Many who are turning to their insurance companies to help them restore, repair, and replace damaged assets are being denied, delayed, and seriously underpaid.
The truth is, insurance is big business and profits come before people. We know your tired and frustrated, we know you suffered serious damage. If your insurance company has denied your legitimate claim, underpaid your claim, or has delayed your claim, we can help you fight back and get the money you deserve. But there are certain things you should do first.
File Your Hurricane Irma Damage Claims
File a claim with your homeowner's insurance, and with your flood insurance company if you already have a policy. File a claim with your car insurance if it was damaged by wind, falling trees, or other debris.
Document your claims number, the names of anyone you speak to, as well as any answers they give you to questions you may have.
Be sure to keep all your receipts, including evacuation expenses, hotel and living expenses, and if you have made or are making temporary repairs to your home, save those receipts as well.
When the claims adjuster comes to inspect, ask if they are an independent adjuster and if they can make decisions and payments for the insurance company, and be sure to get the name of the in-house insurance adjuster to whom your information will be sold. If possible, have your builder or contractor with you when the adjuster comes to help determine damage and repair costs.
Because of how many people have been affected by Hurricanes Irma and Harvey, the claims process may be slower than normal. Whereas in normal situations you could expect to hear from your insurance within 15 days, you may not hear back for up to 30 days. When you file your claim, ask how long it will be before you should expect an answer.
If you claim is accepted, you may receive two payments; one for the start of repairs, and the second after repairs are completed.
You Have Options
If your claim is denied, you will receive written notice, but there is more you can do including hiring a public adjuster to review your property damage (you will be responsible for their service fees) or you can have an appraisal done. If you decide to have an appraisal, you will hire an appraiser and the insurance company will hire an appraiser. A third appraiser is hired (service costs to be shared by both parties) to make the final determination if the two appraisers have differing estimates of loss.
Know Your Rights
Just because your insurance company says no doesn't mean it's over. Any property owner who suffered damage and loss in the storm has rights and is entitled to have the final decision made by a court of law. There are time limits on how long you have to file an insurance lawsuit, so speak to us as soon as possible. We can help you with –
Wind damage claims
Flood damage claims
Wind/flood hybrid claims
We can help you with underpaid, denied, or delayed claims for
Exterior home and building damage such as siding, roof, and porch damage
Interior damage, such as mechanical and electrical damage as well as damage to your floors, walls, and cabinets
Content and personal property damage
Living expenses during the storm and during homeowner repairs
You Deserve a Fair Settlement
We have been fighting for the rights of property owners for decades and we stand ready to fight for you. Contact us now to see how we can help you recover damages and losses from Hurricane Harvey.
We know the games that insurance companies play to avoid damaging their profit margins, and we know how to get you the money you deserve. Before you hire an appraiser or an adjuster, contact us so that we can help you determine how best you should proceed. Our team of property insurance litigators can help you –
Properly and thoroughly analyze your losses
Prioritize what needs done to help you start your recovery
Evaluate the potential sources of recovery for your specific situation
Assess and plan for temporary and permanent repair options
Collect and complete all necessary documentation
Negotiate with your insurance company to get you the biggest recovery possible
Aggressively defend you from low-ball payments, unfair denials, and unrealistic payment delays to ensure you get the maximum recovery allowed by law.
We have been fighting for the rights of property owners for decades and we stand ready to fight for you. Contact us now to see how we can help you recover damages and losses from Hurricane Irma.